This exercise is inspired by a rhythm pattern played by Gavin Harrison with the band Porcupine Tree.
The pattern are composed of doubles paradiddles which are played continuously around the drum set.
The exercises are progressive with the rhythm played at first with the bass drum and the snare drum.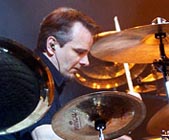 The rhythm with the doubles paradiddles played on the bass drum, the snare drum and the crash cymbal..
The exercise with the doubles paradiddles that accentuate the 1st and 3d beats and played all around the drum set..